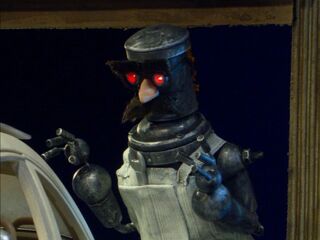 Episode Name: 1987
Season: 2
Episode: 26
Production Code: 3
Air Date: 5/7/2006
Written By: Mike Fasolo, Doug Goldstein, Charles Horn, Seth Green, Breckin Meyer, Tom Root, Matthew Senreich
Directed By: Doug Goldstein
Cast: Scott Adsit, Michael Ian Black, Leah Cevoli, Miguel Ferrer, Sarah Michelle Gellar, Seth Green, Seth MacFarlane, Breckin Meyer (uncredited), Dan Milano, Dana Snyder, Hal Sparks
Episode Summary: Twinkie the Kid dispenses justice and lead! Popular board games from Chutes and Ladders to Hungry Hungry Hippos get turned into action-packed feature films. Meet Skeletor's dentist, Mo-Larr! Emperor Palpatine gets a collect call from Darth Vader. Mortal Kombat's Johnny Cage has a bad day on the job. An enraged Ted Turner transforms into his alter-ego, Captain Planet.
Trivia / Info:
Special Credits:
Segment List:
Ad blocker interference detected!
Wikia is a free-to-use site that makes money from advertising. We have a modified experience for viewers using ad blockers

Wikia is not accessible if you've made further modifications. Remove the custom ad blocker rule(s) and the page will load as expected.