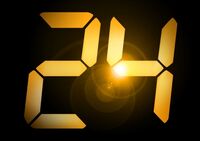 24 is an American television series starring Kiefer Sutherland as Counter Terrorist Unit agent Jack Bauer, produced for the Fox Network and syndicated worldwide. Each 24-episode season covers 24 hours in the life of Bauer, using the real time method of narration.
First broadcast on November 6, 2001, the show ran for 192 episodes over eight seasons, with the series finale broadcast on May 24, 2010. In addition, the television movie 24: Redemption was broadcast between seasons six and seven, while a feature film is also planned.
Segments Alluded To
Edit
Minors Allusions
Edit
Ad blocker interference detected!
Wikia is a free-to-use site that makes money from advertising. We have a modified experience for viewers using ad blockers

Wikia is not accessible if you've made further modifications. Remove the custom ad blocker rule(s) and the page will load as expected.