.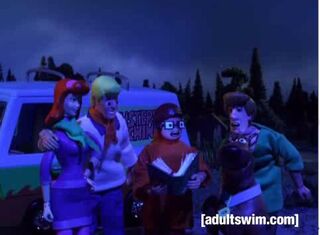 Season:
1
Episode: Operation Rich in Spirit
Length: 3:09
Cast: Linda Cardellini (Velma), Dave Coulier (Scooby-Doo), Phyllis Diller (Herself), Sarah Michelle Gellar (Daphne), Seth Green (Jason Voorhees, Old Man Phillips), Don Knotts (Himself), Matthew Lillard (Shaggy), Freddie Prinze, Jr. (Fred)
Characters: Fred, Daphne, Velma, Shaggy, Scooby-Doo (character), Don Knotts, Phyllis Diller, Jason Voorhees, Old Man Phillips
Segment Summary: Mystery Inc tries to solve what looks like their last case
Written By: Seth Green
Animated By: Anonymous
Themes: Animals, Bleeped, Death, Film, Lengthy, Mashups, Sexuality, Television, Food & Drink, Blood, Violence
Allusions:
This is a parody of Friday the 13th
This reunites the entire cast of the Scooby-Doo movies with Seth Green, who had starred in the film Scooby-Doo 2: Monsters Unleashed.
When Velma claims the virgins live the longest, it is a reference to Scream, which Matthew Lillard starred in.
Shortly before being killed, Don Knotts says "...and one of my apartment tenants might be a flaming homo!" This line refers to his role as Mr. Furley in the sitcom Three's Company, who was a landlord (One of his tenants - played by John Ritter - pretended to be gay so Furley would agree to let him live with two women).
Scooby's head is placed on a pike outside of the campsite, reminiscent of the Lord of the Flies.
Don Knotts and Phyllys Diller's random appearance in the segment is a possible parody of The New Scooby-Doo Movies where a guest star would randomly appear in each episode and help the gang thwart the villain. In this series, Phyllis Diller guest-starred once, and Don Knotts did so twice.
Trivia / Info:
This segment was Don Knotts' final television role.
Old Man Philips looks just like Old Man Smithers from Scooby-Doo:The Movie
The Music used during the scene where Shaggy and Scooby gets killed where later used in the sketch Rape Ghost.
We never see what is happened to Fred or Phyllis Diller.
Daphne says "that must be Jason's dead mother" since Mrs. Voorhees was decapitated in Friday the 13th.
Velma was the only one who didn't die.
Most likley, Fred was killed by Jason when trying to escape the camp.
Goofs / Nitpicks:
Velma said Jason killed all of Mystery Inc. but, he was never seen killing Fred, but he might have got killed off-screen.
Daphne moves before the sword makes contact.
When Daphne says that Freds ascot makes him look gay, She and Fred lies down, but when Jason smashes the door just a second later, They're standing up with no time to do so.
Velma could not have known that all her friends where dead since she was searching for clues in the woods, and none of the Mystery inc-members where killed in the woods.
Just after Scooby says "Better Shaggy than me",Shaggy can be heard grunting even through he already is dead.
During the ending sex scene, Old Man Philips head is clearly wrong
During the opening shot with the Mystery Machine, we see Shaggy's hand at the steering wheel, even through Fred is the driver in the group.