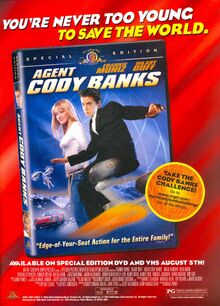 Agent Cody Banks is a movie released in the U.S. on March 14, 2003 that follows the adventures of 15-year-old Cody Banks (played by Frankie Muniz) who has to finish his chores, avoid getting grounded, and save the world by going undercover for the CIA. Hilary Duff (Natalie Connors), Angie Harmon (Ronica Miles), Keith David (CIA Director), Ian McShane (Brinkman), and Arnold Vosloo (Molay) are the co-stars. The film is directed by the Norwegian director Harald Zwart, known from such films as One Night at McCool's and Hamilton.
Segments Alluded To
Edit
External links
Edit
Ad blocker interference detected!
Wikia is a free-to-use site that makes money from advertising. We have a modified experience for viewers using ad blockers

Wikia is not accessible if you've made further modifications. Remove the custom ad blocker rule(s) and the page will load as expected.