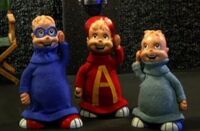 Alvin and the Chipmunks is an American animated music group created by Ross Bagdasarian, Sr. in 1958 consisting of three singing chipmunks named Alvin, Simon and Theodore. They live with their adoptive father, David and go on many adventures.
Segments Alluded To
Edit
Ad blocker interference detected!
Wikia is a free-to-use site that makes money from advertising. We have a modified experience for viewers using ad blockers

Wikia is not accessible if you've made further modifications. Remove the custom ad blocker rule(s) and the page will load as expected.