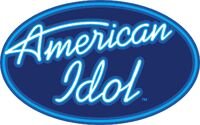 American Idol is an annual American televised singing competition, which began its first season on June 11, 2002. Part of the Idol franchise, it originated from the UK reality program Pop Idol.
The program seeks to discover the best young singer in the country, through a series of nationwide auditions. The outcomes of the latter stages of this competition is wholly determined by public voting. The format features three judges who critique the contestants' performances in order to facilitate the voting. These are: record producer and bass player Randy Jackson; former pop star Paula Abdul; and UK producer and manager Simon Cowell. Ryan Seacrest is the current lone host.
Segments Alluded To
Edit
Ad blocker interference detected!
Wikia is a free-to-use site that makes money from advertising. We have a modified experience for viewers using ad blockers

Wikia is not accessible if you've made further modifications. Remove the custom ad blocker rule(s) and the page will load as expected.