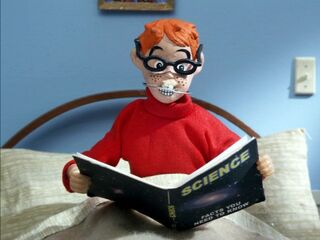 Episode Name: Anne Marie's Pride
Season: 2
Episode: 39
Production Code: 19
Air Date: 11/12/2006
Written By: Jordan Allen-Dutton, Mike Fasolo, Doug Goldstein, Seth Green, Dan Milano, Tom Root, Matthew Senreich, Erik Weiner
Directed By: Seth Green
Cast: Eugene Byrd, Seth Green, Scarlett Johansson, Dan Milano, Stephen Stanton, Fred Tatasciore, Victor Yerrid
Episode Summary: Mr. T and the Foo Fighters forge an unlikely alliance. Stretch Armstrong needs a corn syrup transplant. A guy dates his GPS navigational system. Learn the untold origin of Alvin and the Chipmunks! Roger Ebert and guest reviewer M. Night Shyamalan present upcoming feature films, including "Schindler's List 2: Schindler's Pissed." RATED TV14
Trivia / Info:
The Stoop!d Monkey is feeding himself into a meat grinder.
When this episode originally aired, it was titled "Donkey Punch".
Segment List:
Ad blocker interference detected!
Wikia is a free-to-use site that makes money from advertising. We have a modified experience for viewers using ad blockers

Wikia is not accessible if you've made further modifications. Remove the custom ad blocker rule(s) and the page will load as expected.