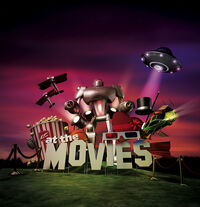 At the Movies (formerly Siskel and Ebert and The Movies, and later At the Movies with Ebert and Roeper) was a movie review television program produced by Disney-ABC Domestic Television in which two film critics share their opinions of newly released films. The program has aired under various names. Its original hosts were Roger Ebert (of the Chicago Sun-Times) and Gene Siskel (of the Chicago Tribune). Richard Roeper (of the Sun-Times) became Ebert's regular partner in 2000 after Siskel died in 1999.
Ebert suspended his appearances in 2006 for treatment of thyroid cancer, with various guest hosts substituting for him. From April to August 2008, Michael Phillips of the Chicago Tribune cohosted. Starting on September 6, 2008, E! Entertainment Television film critic and reporter Ben Lyons and Sirius Satellite Radio host and former co-host of The Young Turks and current Turner Classic Movies host Ben Mankiewicz took over as hosts. On August 5, 2009, it was announced that Michael Phillips would return to the show along with New York Times film critic A. O. Scott on September 5, 2009.
Segments Alluded To
Edit
Ad blocker interference detected!
Wikia is a free-to-use site that makes money from advertising. We have a modified experience for viewers using ad blockers

Wikia is not accessible if you've made further modifications. Remove the custom ad blocker rule(s) and the page will load as expected.