Ad blocker interference detected!
Wikia is a free-to-use site that makes money from advertising. We have a modified experience for viewers using ad blockers

Wikia is not accessible if you've made further modifications. Remove the custom ad blocker rule(s) and the page will load as expected.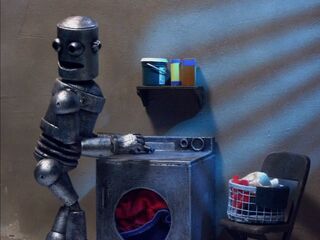 Episode Name: Atta Toy
Season: 1
Episode: 13
Production Code: 16
Air Date: 05/22/2005
Written By: Mike Fasolo, Doug Goldstein, Seth Green, Pat McCallum, Tom Root, Matthew Senreich
Directed By: Tom Root
Cast: Leah Cevoli, Danny Goldman, Ginnifer Goodwin, Seth Green, Breckin Meyer, Dan Milano, Pat O'Brien, Stuart Townsend, Victor Yerrid
Episode Summary: The world's most famous monkey bursts loose on Skull Island in "Ding Dong, King Kong." Scandalous Hollywood news and gossip get the Pat O'Brien treatment. The Smurfs are terrorized by a serial killer in "Murder In Smurf Town X." RATED TV14
Trivia / Info:
The Stoop!d Monkey is about to bite his own tail.
This is the first time that a segment other than the final one has spilled over into the closing credits.
Special Credits:
Segment List:
* Denotes segment occurring after the closing credits