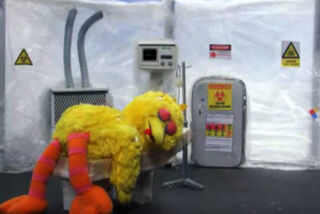 Season:
2
Episode: Book of Corrine
Length: :52
Cast: Seth Green (Quarantiner, Count von Count, Announcer), Dan Milano (Big Bird, Elmo, Grover), Tom Root (Aloysius Snuffleupagus)
Characters: Big Bird, Quarantiners, Elmo, Grover, Aloysius Snuffleupagus, Bert, Ernie, Cookie Monster, Count von Count
Segment Summary: Big Bird gets the bird flu.
Themes: Animals, Bodily Functions, Death, Mashups, Television, Vomit, Commercials
Allusions:
This segment parodies TV's Sesame Street.
There was a similar sketch on MADtv where Big Bird also got the bird flu that might have inspired this sketch.
Trivia / Info:
Seth Green and another Robot Chicken cast member, Mila Kunis have guest-starred on Sesame Street.
In addition, Donald Faison, an occasional Robot Chicken cast member was a cast member on Sesame Street.
Goofs / Nitpicks:
Sesame Street is shown as having a "Word of the day" (Quarantine), though it traditionally only actually had a "Letter" and "Number of the day". HA year after this sketch was made however, Sesame Street episodes did start including a "Word of the Day", which would be introduced at the start of the show as the "Word on the Street." This practice was discontinued when the show was reduced to a half-hour and moved to HBO.
Snuffleupagus is portrayed as an imaginary friend of Big Bird, when, in fact, he's actually a real character on the show and was only thought to be imaginary during his first few appearances.