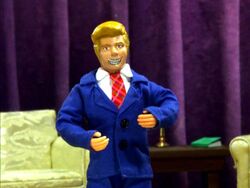 This character is the host of the fictional blooper reel television show, Bloopers, and is voiced by Jamie Kaler. In all of his appearances, except for You Can't Do That On Robot Chicken, Robot Chicken Sells Out, and Robot Chicken Telethon, he commits suicide with various household items at the end of every skit. In the sketch Personal Bloopers, the Bloopers Host's background story is revealed to have a horrible childhood along with the "audience" of his show being figments of his tormented mind. He seems to be based on Bob Saget when he was a host on America's Funniest Home Videos.

Episodes Appeared In:

Junk in the Trunk

Toyz in the Hood

Joint Point

The Black Cherry

Massage Chair

Adoption's an Option

Book of Corrine

Beastmaster & Commander

Fight Club Paradise
Ad blocker interference detected!
Wikia is a free-to-use site that makes money from advertising. We have a modified experience for viewers using ad blockers

Wikia is not accessible if you've made further modifications. Remove the custom ad blocker rule(s) and the page will load as expected.