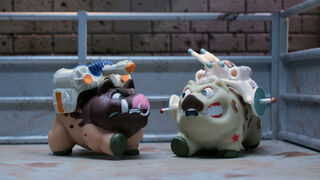 Episode Name: Catdog on a Stick
Season: 7
Episode: 130
Production Code: 10
Air Date: 06/15/2014
Written By: Mikey Day, Mike Fasolo, Seth Green, Brendan Hay, David Phillips, Matthew Senreich, Zeb Wells
Directed By: Zeb Wells
Cast: Seth Green, Sean Bean, Mikey Day, Kate Mara, Chris O'Donnell, AnnaSophia Robb, Saoirse Ronan, Matthew Senreich, Zeb Wells
Episode Summary: The Robot Chicken crew lets you know if Santa Claus is a racist, Tiger Woods gets his own Space Jam type of movie and we find out what The Bratz girls did last summer.
Trivia / Info:
Segment List:
Ad blocker interference detected!
Wikia is a free-to-use site that makes money from advertising. We have a modified experience for viewers using ad blockers

Wikia is not accessible if you've made further modifications. Remove the custom ad blocker rule(s) and the page will load as expected.