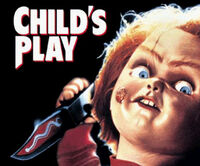 Child's Play is a 1988 horror film, written by Don Mancini and directed by Tom Holland. The film tells about a boy who gets the doll he always wanted. However, the doll is possesed by the soul of the Lakeshore strangler, Charles Lee Ray, who tries to transfer his soul in the boy's body to be human again. It was released by United Artists on November 9, 1988. Several sequels were later released by Universal; Child's Play 2 (1990), Child's Play 3 (1991), Bride of Chucky (1998), Seed of Chucky (2004), and Curse of Chucky (2013). A seventh installment is set to be released on October 20, 2017.
Segments Alluded To
Edit
Ad blocker interference detected!
Wikia is a free-to-use site that makes money from advertising. We have a modified experience for viewers using ad blockers

Wikia is not accessible if you've made further modifications. Remove the custom ad blocker rule(s) and the page will load as expected.