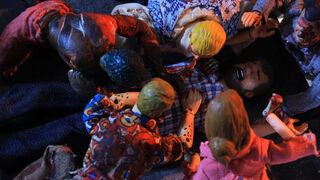 Episode Name: Collateral Damage in Gang Turf War
Season: 6
Episode: 110
Production Code: 10
Air Date: 11/18/2012
Written By:
Directed By: Zeb Wells
Cast: Lake Bell, Jon Bernthal, Madison Dylan, Clare Grant, Seth Green, Nicholas Hoult, Robert Kirkman, Breckin Meyer, Liev Schreiber, Matthew Senreich
Episode Summary: E.T. takes over an ER; Harry Potter lands in a not-so-magical situation; the reason why Black Widow and Hawkeye remain part of the Avengers is revealed; and the characters encounter zombies. rated TV14
Trivia / Info:
Segment List:
Ad blocker interference detected!
Wikia is a free-to-use site that makes money from advertising. We have a modified experience for viewers using ad blockers

Wikia is not accessible if you've made further modifications. Remove the custom ad blocker rule(s) and the page will load as expected.