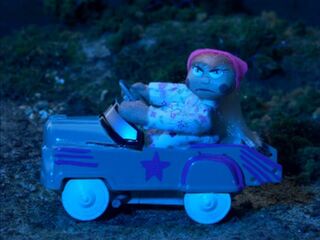 Episode Name: Drippy Pony
Season: 2
Episode: 36
Production Code: 14
Air Date: 7/23/2005
Written By: Hugh Davidson, Mike Fasolo, Doug Goldstein, Seth Green, Dan Milano, Tom Root, Matthew Senreich
Directed By: Doug Goldstein
Cast: Hugh Davidson, Alfonso Freeman, Ginnifer Goodwin, Seth Green, Tod Grinnell, Hugh Hefner, Tom Kane, Holly Madison, Bridget Marquardt, Breckin Meyer, Dan Milano, Sarah Silverman, Nick Simmons, Mindy Sterling, Kendra Wilkinson
Episode Summary: Learn the secret life of Batman villain, the Penguin! Kids will love playing with "My Stalker!" Orlando Bloom must help his fellow passengers survive after a plane crash. Jesus and the Argonauts find action and adventure, and turn their backs on it. The Micronauts climb a mountain. The U.S. government declares a war on Christmas. RATED TV14
Trivia / Info:
This episode appeared on Adult Swim Fix and originally aired without any opening credits.
The Stoop!d Monkey has tried to follow the chicken across the road.
Segment List:
Ad blocker interference detected!
Wikia is a free-to-use site that makes money from advertising. We have a modified experience for viewers using ad blockers

Wikia is not accessible if you've made further modifications. Remove the custom ad blocker rule(s) and the page will load as expected.