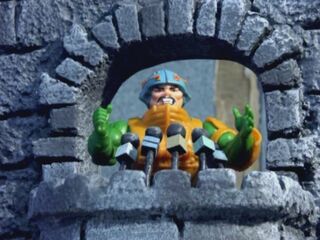 {{#watch:0397c01300063101a22bdb65d801a090}}
Watch Eternia News Network on [as] video
Season:
1
Episode: Badunkadunk
Length: 1:47
Cast: Macaulay Culkin (Farmer, Prince Adam), Jamie Kaler (Man-At-Arms), Seth Green (Teela), Seth MacFarlane (Male Newscaster), Chad Morgan (Female Newscaster)
Characters: Male Newscaster, Female Newscaster, Two-Bad, Beast Man, Teela, Man-At-Arms, Farmer, Evil-Lyn, Prince Adam
Segment Summary: The Masters of the Universe are rocked by a Paris Hilton-style sex tape.
Themes: Alcohol, Animals, Bleeped, Bug Eyes, Motor Vehicles, Sexuality, Television
Allusions:
Trivia / Info:
Michael Suby produced music for The Simple Life.
During the Two-Bad wedding scene, two figures from She-Ra: Princess of Power make cameo appearances. Glimmer or Spinnerella, appears partially to the right side and only her pink/purple hair is visible. The others seen briefly are a modified Peekablue, with removed peacock feathers, Mermista or even possibly Frosta.
The Man-At-Arms figure originally lacked a mustache; this detail seems to have been added to make him look more like his cartoon counterpart.
Goofs / Nitpicks:

Ad blocker interference detected!
Wikia is a free-to-use site that makes money from advertising. We have a modified experience for viewers using ad blockers

Wikia is not accessible if you've made further modifications. Remove the custom ad blocker rule(s) and the page will load as expected.