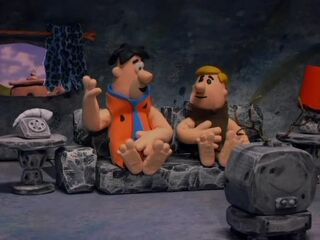 The Flintstones is an American animated television series, produced by Hanna-Barbera Productions.
The Flintstones was one of the most successful sitcoms of all time, as it was one of the first to appeal to a whole family. Inspired by the 1950s live-action sitcom The Honeymooners, The Flintstones was about a working class caveman's life with his family and his next door neighbor / best friend. The first prime time cartoon geared for adults, the show originally aired from 1960 to 1966, on the ABC network. While the show was originally syndicated by Screen Gems (and later by Worldvision Enterprises and then Turner Program Services), Warner Bros. Television has the current rights (through parent Time Warner's purchase).
Segments Alluded To
Edit
External links
Edit
Ad blocker interference detected!
Wikia is a free-to-use site that makes money from advertising. We have a modified experience for viewers using ad blockers

Wikia is not accessible if you've made further modifications. Remove the custom ad blocker rule(s) and the page will load as expected.