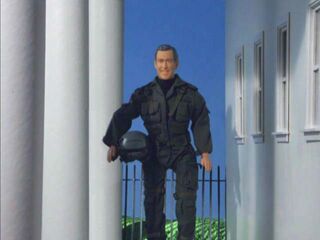 George Walker Bush (born July 6, 1946) is the 43rd and former President of the United States, inaugurated on January 20, 2001 – January 20, 2009. He served as the 46th Governor of Texas from 1995 to 2000 before being elected in 2000 and re-elected in 2004 as President.
Our fearless leader, George W. Bush is almost always portrayed wearing a flight suit, though he portrayed wearing a business suit in a few episodes. He has the distinction of being the butt of the first joke shelled out in the first episode aired.
He is voiced by Seth Green.
Episodes Appeared In:

Junk in the Trunk

Nutcracker Sweet

Plastic Buffet

The Black Cherry

Suck It

Federated Resources

Dragon Nuts

Massage Chair

Robot Chicken: Star Wars

Tapping a Hero

Yancy the Yo-Yo Boy

Losin' the Wobble

Chirlaxx

Chipotle Miserables
Ad blocker interference detected!
Wikia is a free-to-use site that makes money from advertising. We have a modified experience for viewers using ad blockers

Wikia is not accessible if you've made further modifications. Remove the custom ad blocker rule(s) and the page will load as expected.