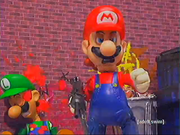 Grand Theft Auto (GTA, GTA1, or Grand Theft Auto 1) is a computer and video game created by DMA Design (now Rockstar North) and published by ASC Games in 1997/1998. It is the first in the Grand Theft Auto series that has thus far spanned eight standalone games, and one expansion pack for the original. See
Grand Theft Auto (series)
for more on the series and other games in it.
The game allows the player to take on the role of a criminal who can roam around the city freely. Various missions are set for completion, such as bank robberies, assassinations, and other crimes.
Segments Alluded To
Edit
External Link
Edit
Ad blocker interference detected!
Wikia is a free-to-use site that makes money from advertising. We have a modified experience for viewers using ad blockers

Wikia is not accessible if you've made further modifications. Remove the custom ad blocker rule(s) and the page will load as expected.