Ad blocker interference detected!
Wikia is a free-to-use site that makes money from advertising. We have a modified experience for viewers using ad blockers

Wikia is not accessible if you've made further modifications. Remove the custom ad blocker rule(s) and the page will load as expected.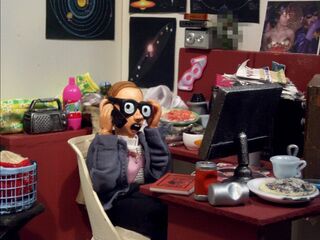 Episode Name: Joint Point
Season: 1
Episode: 14
Production Code: 17
Air Date: 06/05/2005
Written By: Mike Fasolo, Doug Goldstein, Seth Green, Pat McCallum, Tom Root, Matthew Senreich
Directed By: Doug Goldstein
Cast: Leah Cevoli, Sarah Michelle Gellar, Doug Goldstein (uncredited), Seth Green, Mark Hamill, Scarlett Johansson, Jamie Kaler, Danny Masterson, Dan Milano, Chad Morgan
Episode Summary: Sailor Moon encounters a bone-chilling villain. A nerd wins a date with famous actress Scarlett Johansson. "Welcome to the Terrordrome" showcases inner-office machinations at the headquarters of G.I. joe's nemesis Cobra. "America's Most Tragic Home Videos" will make you laugh and cry.
Trivia / Info:
Special Credits:
Segment List: