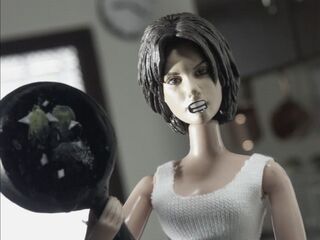 Episode Name: Junk in the Trunk
Season: 1
Episode: 1
Production Code: 2
Air Date: 2/20/2005
Written By: Doug Goldstein, Seth Green, Pat McCallum, Tom Root, Matthew Senreich
Directed By: Chris Finnegan, Matthew Senreich
Cast: Abraham Benrubi, Rachael Leigh Cook, Macaulay Culkin, Donald Faison, Seth Green, Terrance Jones, Jamie Kaler, Seth MacFarlane, Dan Milano, Chad Morgan, Dax Shepard
Episode Summary: Rachael Leigh Cook smashes more than eggs in her latest anti-heroin public service announcement. Optimus Prime, leader of the Autobots, falls prey to prostate cancer. The outcome is never is doubt during "World's Most One-Sided Fistfights Caught on Film." Outtakes from Dukes of Hazzard, The X-Files, Battlestar Galactica and more come to light in "Bloopers." RATED TV14
Trivia / Info:
Produced as the second episode, after "The Deep End," but shown first.
This episode's title was considered for the series' name, but rejected because its creators did not want it to be associated with a porn series of the same name.
The Stoop!d Monkey is about to hammer his tail.
Segment List:
Ad blocker interference detected!
Wikia is a free-to-use site that makes money from advertising. We have a modified experience for viewers using ad blockers

Wikia is not accessible if you've made further modifications. Remove the custom ad blocker rule(s) and the page will load as expected.