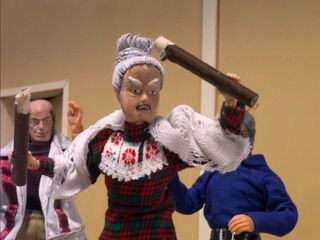 Episode Name: Kiddie Pool
Season: 1
Episode: 15
Production Code: 07
Air Date: 6/12/2005
Written By: Mike Fasolo, Doug Goldstein, Seth Green, Pat McCallum, Tom Root, Matthew Senreich
Directed By: Doug Goldstein
Cast: Donald Faison, Seth Green, Mike Henry, Breckin Meyer, Chad Morgan, Ming Na
Episode Summary: Michael Knight's talking car parties hard in "KITT's Day Out. A brawl rocks the nursing home in "Grandma Fu." Mary-Kate and Ashley Olsen unite to fight a rampaging dragon. George Jetson's murder takes center stage in "Unsolved Case Files: I, Rosie." RATED TV14
Trivia / Info:
The Stoop!d Monkey is climbing into the mouth of a crocodile.
This episode was aired on Thanksgiving 2007 as part of Adult Swim's "Worst of Adult Swim" special.
Special Credits:
Segment List:
Ad blocker interference detected!
Wikia is a free-to-use site that makes money from advertising. We have a modified experience for viewers using ad blockers

Wikia is not accessible if you've made further modifications. Remove the custom ad blocker rule(s) and the page will load as expected.