Ad blocker interference detected!
Wikia is a free-to-use site that makes money from advertising. We have a modified experience for viewers using ad blockers

Wikia is not accessible if you've made further modifications. Remove the custom ad blocker rule(s) and the page will load as expected.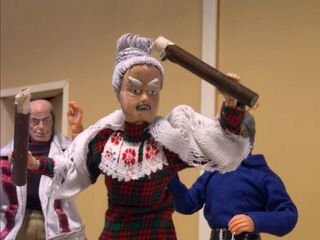 Episode Name: Kiddie Pool
Season: 1
Episode: 15
Production Code: 07
Air Date: 06/12/2005
Written By: Mike Fasolo, Doug Goldstein, Seth Green, Pat McCallum, Tom Root, Matthew Senreich
Directed By: Doug Goldstein
Cast: Donald Faison, Seth Green, Mike Henry, Breckin Meyer, Chad Morgan, Ming Na
Episode Summary: Michael Knight's talking car parties hard in "KITT's Day Out. A brawl rocks the nursing home in "Grandma Fu." Mary-Kate and Ashley Olsen unite to fight a rampaging dragon. George Jetson's murder takes center stage in "Unsolved Case Files: I, Rosie." RATED TV14
Trivia / Info:
The Stoop!d Monkey is climbing into the mouth of a crocodile.
This episode was aired on Thanksgiving 2007 as part of Adult Swim's "Worst of Adult Swim" special.
Special Credits:
Segment List: