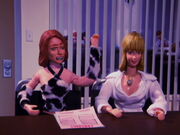 Lindsay Dee Lohan (born July 2, 1986) is an American actress and pop music singer. Lohan started in show business as a child fashion model for magazine ads and television commercials. At age ten, she began her acting career in a soap opera; at eleven, she made her motion picture debut by playing both twins in Disney's 1998 remake of The Parent Trap. Lohan's breakout role as a leading actress came six years later with 2004's Mean Girls, which shone the media spotlight on her professional and personal lives—including her nightlife and her parents' marital and legal struggles.
Breckin Meyer voices Lohan in Robot Chicken sketches.
Segments Appeared In:
Edit
Ad blocker interference detected!
Wikia is a free-to-use site that makes money from advertising. We have a modified experience for viewers using ad blockers

Wikia is not accessible if you've made further modifications. Remove the custom ad blocker rule(s) and the page will load as expected.