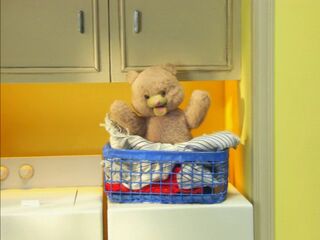 Episode Name: Massage Chair
Season: 2
Episode: 29
Production Code: 09
Air Date: 05/28/2006
Written By: Jordan Allen-Dutton, Mike Fasolo, Doug Goldstein, Seth Green, Tom Root, Matthew Senreich, Erik Weiner
Directed By: Doug Goldstein
Cast: Emma Caulfield, Seth Green, Hulk Hogan, Jamie Kaler, Jimmy Kimmel, Jim Meskimen, Chad Morgan, Tom Root, Adam Talbott, James Van Der Beek
Episode Summary: Cuddles the fabric softener bear gets the wrong kind of hug. Corporate disputes get solved hand-to-hand in Office Fighter. Monkeys explore outer space on a budget. George W. Bush discovers he has Jedi powers. And we're back with more of those stupendous bloopers, including auditions tapes from MTV's Jackass!
Trivia / Info:
Special Credits:
Segment List:
Ad blocker interference detected!
Wikia is a free-to-use site that makes money from advertising. We have a modified experience for viewers using ad blockers

Wikia is not accessible if you've made further modifications. Remove the custom ad blocker rule(s) and the page will load as expected.