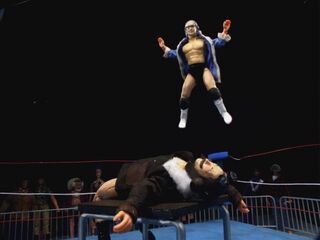 Episode Name: Midnight Snack
Season: 1
Episode: 12
Production Code: 15
Air Date: 05/15/2005
Written By: Mike Fasolo, Doug Goldstein, Seth Green, Pat McCallum, Tom Root, Matthew Senreich
Directed By: Seth Green
Cast: Seth Green, Dan Milano, Chad Morgan, Conan O'Brien, Tom Root (uncredited), Matthew Senreich (uncredited), Pamela Tyson, Victor Yerrid
Episode Summary: "The World's Most One-Sided Fistfights" get wild at Mardi Gras. Benjamin Franklin grapples with historical figures like the Wright Brothers and Mahatma Gandi in "Educational Wrestling Federation." Oprah Winfrey fufills all her viewers' fondest wishes-almost. A man in a public restroom encounters the terror known as "Dumplestiltskin." "12 Angry Little People" deliberate a crime most heinous. RATED TV14
Trivia / Info:
The Stoop!d Monkey is being cooked by an island native.. again, but with a different background.
This is the first episode in which Matthew Senreich does not voice himself in any of the sketches.
This is the first and only time that a Stoop!d Monkey logo has been (accidently) repeated, though with a different background.
Special Credits:
Segment List:
What Color are the Boobies? (DVD exclusive)
Ad blocker interference detected!
Wikia is a free-to-use site that makes money from advertising. We have a modified experience for viewers using ad blockers

Wikia is not accessible if you've made further modifications. Remove the custom ad blocker rule(s) and the page will load as expected.