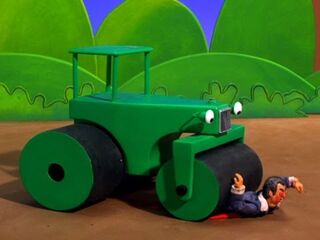 Episode Name: More Blood, More Chocolate
Season: 3
Episode: 48
Production Code: 09
Air Date: 08/30/2008
Written By: Mike Fasolo, Doug Goldstein, Seth Green, Harp Pekin, Tom Root, Ben Schwartz, Matthew Senreich, Kevin Shinick
Directed By: Chris McKay
Cast: Kevin Connolly, Rosario Dawson, Tamara Garfield, Seth Green, Jamie Kaler, Breckin Meyer, Tom Root, Skeet Ulrich
Episode Summary: An alien invasion isn't quite what it seems. Haunted Houses are common, but not one with THIS kind of ghost! Can Bob the Builder take on the mafia? Probably. "Inside the Battlefield" revisits G.I. Joe's and Cobra's battle of the Weather Dominator, 20 years later.
Trivia / Info:
The Stoop!d Monkey is wearing an "IM WITH STUPID!" shirt that indicates himself.
Special Credits:
Segment List:
Ad blocker interference detected!
Wikia is a free-to-use site that makes money from advertising. We have a modified experience for viewers using ad blockers

Wikia is not accessible if you've made further modifications. Remove the custom ad blocker rule(s) and the page will load as expected.