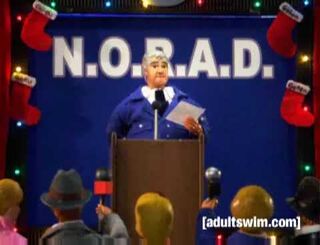 {{#watch:28701450d1c5863aa0196ab20d1025c0}}
Watch NORAD Shoots Down Santa on [as] video
Season:
2
Episode: Drippy Pony
Length: 1:33
Cast: Alfonso Freeman (NORAD Representative), Seth Green (Santa Claus)
Characters: Santa Claus, Reporters, NORAD Representative, Air Force Pilots, Disappointed Kids
Segment Summary: The U.S. government declares a war on Christmas. This is what they're doing besides looking for Osama? Way to go, assholes!
Themes: Holidays, Death, Bleeped
Allusions:
The title is a play on NORAD's annual Santa tracking (NORAD Tracks Santa). Visit The NORAD Tracks Santa Wiki for more information.
Santa uses a bazooka that he intended to deliver to Charlton Heston, another shot at the NRA. (Also see NRA Kids Club.)
Trivia / Info:
The interceptors that shoot down Santa are F-14 Tomcats.
The sound of the little girl crying comes from the videogame Silent Hill 3.
Goofs / Nitpicks:
The remaining F-14 fires an AIM-7 Sparrow missile at Santa from close range; the Sparrow was actually a medium-range missile.
By the time this episode aired, the F-14 had already been retired. Also, it was historically a Navy fighter, not an Air Force one.

The stockings in the background at the press conference are all from A Very Dragon Ball Z Christmas.
Ad blocker interference detected!
Wikia is a free-to-use site that makes money from advertising. We have a modified experience for viewers using ad blockers

Wikia is not accessible if you've made further modifications. Remove the custom ad blocker rule(s) and the page will load as expected.