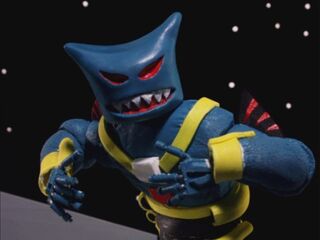 Episode Name: Nutcracker Sweet
Season: 1
Episode: 2
Production Code: 05
Air Date: 02/27/2005
Written By: Mike Fasolo, Doug Goldstein, Seth Green, Tom Root, Matthew Senreich
Directed By: Doug Goldstein
Cast: Michael Benyaer, Sarah Michelle Gellar, Seth Green, Mike Henry, Dan Milano, Kurtwood Smith
Episode Summary: Voltron engages in an old-school dance-off in "You Got Robo-Served." The secret lives of nature's most fascinating beasts are exposed in "Secrets of the Animal Kingdom." Testicles are terrorized in "Ode to the Nut Shot." Walt Disney's severed head with its giant robotic spider-body attacks Cuba. RATED TV14
Trivia / Info:
The Stoop!d Monkey is smoking an entire pack of cigarettes.
The music during the Voltron sketch is changed for the DVD release due to copyright arguments.
This is the first episode that didn't end with a lengthy sketch.
Segment List:
Ad blocker interference detected!
Wikia is a free-to-use site that makes money from advertising. We have a modified experience for viewers using ad blockers

Wikia is not accessible if you've made further modifications. Remove the custom ad blocker rule(s) and the page will load as expected.