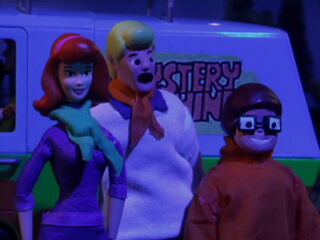 Episode Name: Operation Rich in Spirit
Season: 1
Episode: 17
Production Code: 18
Air Date: 06/26/2005
Written By: Mike Fasolo, Doug Goldstein, Seth Green, Pat McCallum, Tom Root, Matthew Senreich
Directed By: Seth Green
Cast: Linda Cardellini, Dave Coulier, Phyllis Diller, Sarah Michelle Gellar, Seth Green, Melissa Joan Hart, Don Knotts, Matthew Lillard, Freddie Prinze, Jr., Amy Smart, Fred Tatasciore
Episode Summary: A video dating experience takes a turn for the worse. An oriental massage also takes a turn for the worse. Keanu Reeves wants you to buy his special brand of sausage. The Scooby-Doo gang encounters Jason Voorhees at Camp Crystal Lake.
Trivia / Info:
The Stoop!d Monkey has got his head in a toilet.
This is the third time that the final segment spills over into the closing credits.
Special Credits:
Segment List:
Ad blocker interference detected!
Wikia is a free-to-use site that makes money from advertising. We have a modified experience for viewers using ad blockers

Wikia is not accessible if you've made further modifications. Remove the custom ad blocker rule(s) and the page will load as expected.