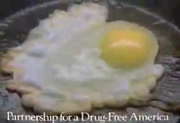 Partnership for a Drug-Free America (PDFA) is a non-profit organization founded by Richard T O'Reilly in 1986 as a project of the American Association of Advertising Agencies. Its publicly stated goal, to reduce the demand for narcotics amongst young people by using the various advertising outlets of the mass media to change their attitudes towards illegal drugs, is based on an idea by Philip Joanou, (chairman of Dailey and Associates in Los Angeles), that marketing techniques can be used to help "unsell" narcotics. The presumption being that if advertising can influence individuals to purchase products, then it may also be possible to influence the choice of whether or not to experiment with or use narcotics.
PDFA's early strategy was based on a concept put forward by Dr. Mitchell S. Rosenthal, (president of the Phoenix House treatment programs in New York), who had theorized that the high level of drug use and addiction in the early 1980s was due to the "normalization" of narcotics since the mid-1960s. According to Dr Rosenthal, it would not be possible to achieve significant progress in the War on Drugs until individual and sub-cultural attitudes that were accepting of drugs were reversed, or "denormalized".
The organization first entered the wider public consciousness in 1987, with its This is Your Brain on Drugs broadcast and print public service advertisements (PSAs), which used the analogy that if a person's brain is an egg, then using drugs would be like frying it. This, in addition to a PSA where a television, a trip to Paris and a new car all disappear right under the nose of a cocaine user and another about how a drug-induced high is like diving into an empty swimming pool, were all praised in a speech given to those involved executively with PDFA by then-President George H W Bush in late 1989.
Segments Alluded To
Edit
External links
Edit
aef.com, showcases select PDFA case histories
Ad blocker interference detected!
Wikia is a free-to-use site that makes money from advertising. We have a modified experience for viewers using ad blockers

Wikia is not accessible if you've made further modifications. Remove the custom ad blocker rule(s) and the page will load as expected.