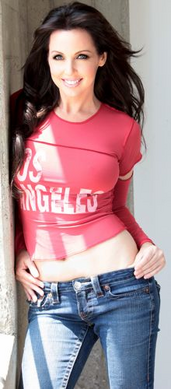 Robin Bain
is an American actress and model. Bain appeared as a Cyber Girl on Playboy.com in October 2002. She has also appeared in guest roles on NBC's
The Real Wedding Crashers
(May 2007) and on Comedy Central alongside Carlos Mencia on
The Mind of Mencia
(July 2007). Bain also appeared as a "live action character" on Cartoon Network/Adult Swim's
Robot Chicken
(2008).
Bain appeared on The Tonight Show with Jay Leno in January 2008. After a brief interview with Jay Leno, Bain performed a blonde joke in the opening monologue of the show.
Episodes Acted In:

President Evil

Dear Consumer
External Links:
Ad blocker interference detected!
Wikia is a free-to-use site that makes money from advertising. We have a modified experience for viewers using ad blockers

Wikia is not accessible if you've made further modifications. Remove the custom ad blocker rule(s) and the page will load as expected.