Ad blocker interference detected!
Wikia is a free-to-use site that makes money from advertising. We have a modified experience for viewers using ad blockers

Wikia is not accessible if you've made further modifications. Remove the custom ad blocker rule(s) and the page will load as expected.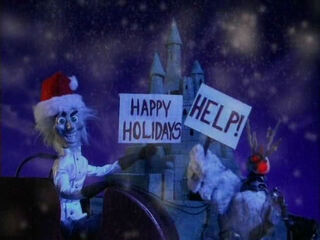 Episode Name: Robot Chicken Christmas Special
</p> </p> </p>
Air Date: 12/22/2005
Written By: Mike Fasolo, Doug Goldstein, Seth Green, Charles Horn, Pat McCallum, Breckin Meyer, Tom Root, Matthew Senreich
Directed By: Sandy Claws
Cast: Phyllis Diller, Seth Green, Ashton Kutcher, Seth MacFarlane, Breckin Meyer, Dan Milano, Chad Morgan, Dax Shepard, Christian Slater, Stephen Stanton
Episode Summary:  This is the first "special" episode that is not part of a season, containing mostly previously aired holiday themed segments from Season 1. 
Trivia / Info:
Opening sequence differences:

In the initial shot, the usual rain has been replaced by snow.
The opening credits are displayed in a festive green and red.
The final moment of the opening shows screens of live-action shots of cast and crew members instead of clips from the show.
The Created By credit lists "Ho-Ho Green" and "Matthew Menorah".

The end theme has been replaced with chickens clucking Jingle Bells.
After the end credits, there's a short segment with Mad Scientist and Chicken decked out as Santa and Rudolph wishing us Happy Holidays and begging us for help, respectively.
The Stoop!d Monkey has hanged himself from a Christmas tree.
Segment List:
* Denotes segment occurring after the closing credits