Ad blocker interference detected!
Wikia is a free-to-use site that makes money from advertising. We have a modified experience for viewers using ad blockers

Wikia is not accessible if you've made further modifications. Remove the custom ad blocker rule(s) and the page will load as expected.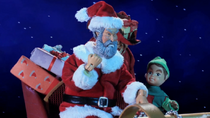 In the first two seasons, as well as the 2015 christmas special, Santa was voiced by Seth Green but, in later seasons he is voiced by Seth MacFarlane.
Episodes Appeared In:

Junk in the Trunk

Gold Dust Gasoline

The Deep End

Nightmare Generator

Robot Chicken Christmas Special

Easter Basket

Drippy Pony

Book of Corrine

Robot Chicken's Half-Assed Christmas Special

In a DVD Factory

Dear Consumer

Robot Chicken's DP Christmas Special

Robot Chicken's ATM Christmas Special