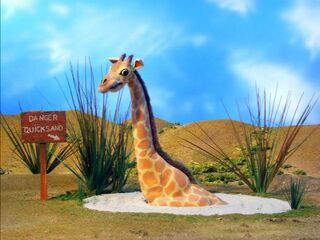 Episode Name: Sausage Fest
Season: 2
Episode: 35
Production Code: 13
Air Date: 10/15/2006
Written By: Hugh Davidson, Mike Fasolo, Doug Goldstein, Seth Green, Dan Milano, Tom Root, Matthew Senreich
Directed By: Tom Root
Cast: Seth Green, Gary Holms, Marion Ramsey, Fred Tatasciore, Michael Winslow, Elijah Wood
Episode Summary: Li'l Hitler will win your heart! The Library of Heaven yields answers even God doesn't want you to know. The Burger King serves up some delicious B&E. Garfield and Heathcliff take each other to court. A giraffe deals with the stages of death. The gang from Police Academy joins the X-Men. RATED TV14
Trivia / Info:
The Stoop!d Monkey is about to stick his finger up a light bulb socket.
Special Credits:
Segment List:
Ad blocker interference detected!
Wikia is a free-to-use site that makes money from advertising. We have a modified experience for viewers using ad blockers

Wikia is not accessible if you've made further modifications. Remove the custom ad blocker rule(s) and the page will load as expected.