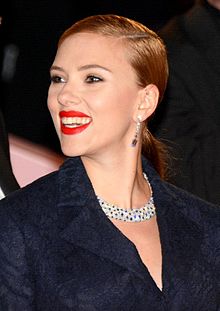 Scarlett Johansson (born November 22, 1984) is an American film actress. She rose to fame with her role in 1998's The Horse Whisperer and subsequently became one of Hollywood's most sought-after young actresses after her critically acclaimed roles in Ghost World, Lost in Translation and Girl with a Pearl Earring, the latter two earning her Golden Globe Award nominations in 2003. Johansson has since established herself as a lead actress, having appeared in several notable films between 2004 and 2006. Scarlett also acted in The SpongeBob SquarePants Movie as Mindy the Mermaid and in Iron Man 2 and The Avengers as Black Widow.
Episodes Acted In:

Toyz in the Hood

A Piece of the Action

Toy Meets Girl

Joint Point

Veggies for Sloth

Blankets in a Pig

Anne Marie's Pride
Episodes Appeared In:

A Piece of the Action
External Links:
Ad blocker interference detected!
Wikia is a free-to-use site that makes money from advertising. We have a modified experience for viewers using ad blockers

Wikia is not accessible if you've made further modifications. Remove the custom ad blocker rule(s) and the page will load as expected.