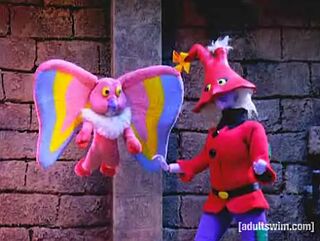 Episode Name: Slaughterhouse on the Prairie
Season: 3
Episode: 53
Production Code: 15
Air Date: 11/11/2008
Written By: Mike Fasolo, Seth Green, Breckin Meyer, Tom Root, Matthew Senreich, Kevin Shinick
Directed By: Chris McKay
Cast: Eden Espinosa, Danny Goldman, Seth Green, Joel McHale, Dan Milano, Tom Root, Kevin Shinick, Robin Tunney
Episode Summary: Never seek the help of She-Ra when she's in her period! Danny and the gang from Grease are building a new sex machine. The intensive Care Bears care more than their HMO will allow. Nobody in Smurf village ever expected the dam to break.
Trivia / Info:
The Stoop!d Monkey is attempting to steal an egg from a giant condor.
This is the first episode Breckin Meyer didn't act in since Endless Breadsticks.
According to several web summaries, there was going to be a sketch that would involve the E.T. video game for the Atari 2600. However it was never made.
Special Credits:
Segment List:
Ad blocker interference detected!
Wikia is a free-to-use site that makes money from advertising. We have a modified experience for viewers using ad blockers

Wikia is not accessible if you've made further modifications. Remove the custom ad blocker rule(s) and the page will load as expected.