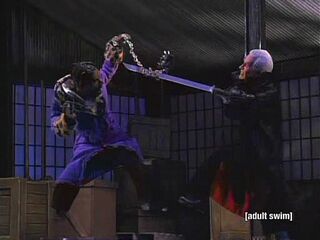 Episode Name: Squaw Bury Shortcake
Season: 3
Episode: 42
Production Code: 03
Air Date: 08/19/2007
Written By: Mike Fasolo, Doug Goldstein, Seth Green, Tom Root, Matthew Senreich, Kevin Shinick, Zeb Wells
Directed By: Chris McKay
Cast: Kristin Chenoweth, Dave Coulier, Snoop Dogg, Cee-Lo Green, Seth Green, Ethan Hawke, Kelly Hu, Jonathan Lipow, Tom Root
Episode Summary: The MythBusters team tackles masturbation myths. G-Force's Tiny needs to shed a few pounds. Popeye's friends hold an intervention over his addiction to spinach. Godzilla takes a rookie out for a Training Day. Tablesmasher attempts to defeat The Council of Evil Tables. Dirty Harry deals with a punk that does feel lucky. After retirement, Bob Barker handles the neutering personally.
Trivia / Info:
Special Credits:
Segment List:
Ad blocker interference detected!
Wikia is a free-to-use site that makes money from advertising. We have a modified experience for viewers using ad blockers

Wikia is not accessible if you've made further modifications. Remove the custom ad blocker rule(s) and the page will load as expected.