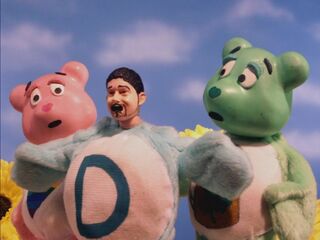 Episode Name: That Hurts Me
Season: 1
Episode: 19
Production Code: 19
Air Date: 07/10/2005
Written By: Mike Fasolo, Doug Goldstein, Seth Green, Pat McCallum, Tom Root, Matthew Senreich
Directed By: Matthew Senreich
Cast: Scott Adsit, Dave Coulier, Macaulay Culkin, Seth Green, Kelly Hu, Roger L. Jackson, Amy Smart
Episode Summary: Dean Devlin and Roland Emmerich re-make Godzilla...again. A crime-fighting monkey saves monkeys from a monkey super villain. An average fellow named Doug wakes up in the world of the Huggytime Bears. Freddy Krueger, Jason Vorhees, Leatherface and other horror movie icons sign on for the reality show Big Brother.
Trivia / Info:
Special Credits:
Segment List:
Ad blocker interference detected!
Wikia is a free-to-use site that makes money from advertising. We have a modified experience for viewers using ad blockers

Wikia is not accessible if you've made further modifications. Remove the custom ad blocker rule(s) and the page will load as expected.