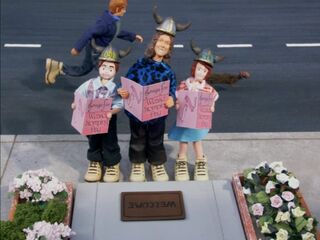 Episode Name: The Munnery
Season: 2
Episode: 32
Production Code: 15
Air Date: 09/24/2006
Written By: Hugh Davidson, Mike Fasolo, Doug Goldstein, Seth Green, Dan Milano, Tom Root, Matthew Senreich
Directed By: Doug Goldstein
Cast: Hugh Davidson, Alfonso Freeman, Ginnifer Goodwin, Seth Green, Tod Grinnell, Breckin Meyer, Dan Milano, Sarah Silverman, Nick Simmons, Fred Tatasciore, Al Yankovic
Episode Summary: The legendary Kraken sea monster learns that freedom isn't all it's krak-ed up to be. Weird Al Yankovic's "Weasel Stomping Day" gets a Robot Chicken video treatment! The wishes of children come true, with dire results. The crew of the Starship Enterprise faces their greatest foe yet - themselves!
Trivia / Info:
For an unknown reason, adultswim.com always lists this episode under the name "The Navy", naming it after one of its segments.
The Stoop!d Monkey has been fishing for a goldfish in its bowl.
Special Credits:
Segment List:
Ad blocker interference detected!
Wikia is a free-to-use site that makes money from advertising. We have a modified experience for viewers using ad blockers

Wikia is not accessible if you've made further modifications. Remove the custom ad blocker rule(s) and the page will load as expected.