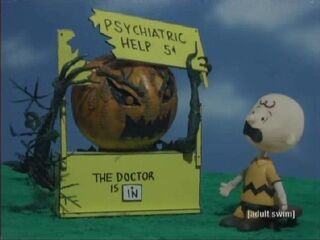 Season:
1
Episode: Vegetable Funfest
Length: 2:55
Cast: Katelin Peterson (Lucy, Sally, Marcie), Abraham Benrubi (Great Pumpkin), Rory Thost (Linus, Charlie Brown), Seth Green (Snoopy), Tom Root (Adult)
Characters: Linus, Charlie Brown (character), Lucy, Schroeder, Snoopy, Woodstock, Sally, Pigpen, Peppermint Patty, Franklin, Marcie, The Great Pumpkin, Kite-Eating Tree, Devil, Adult
Segment Summary: Linus finally gets to see the Great Pumpkin, unfortunally, he was not quite what he expected
Themes: Animals, Death, Destruction, Doctors, Food & Drink, Holidays, Motor Vehicles, Religion, Sexuality, Sports, Violence
Allusions:
This segment is a parody of Peanuts and the special It's The Great Pumpkin, Charlie Brown.
The Charlie Brown / Great Pumpkin relationship, and the look of the Great Pumpkin, resembles Seymour Krelborn and Audrey II the carnivorous plant, in Little Shop of Horrors.
Trivia / Info:
Charlie Brown makes a reference to the Peanuts animated films Bon Voyage, Charlie Brown and Race for your life, Charlie Brown! when he recalls two of their past times. Coincidentally, both those 2 films were released by Paramount Pictures.
The segment makes fun of the lesbian theory/controversy/conspiracy/rumor between Peppermint Patty and Marcie.
At the beginning Linus can be seen lighting the Chicken on fire in a circle.
The title card is written in a font strongly reminiscent of the 2000 DVD cover of It's the Great Pumpkin, Charlie Brown.
Rory Thost who voiced Charlie Brown and Linus in this segment, later voiced Peppermint Patty in the Peanuts special "He's a Bully Charlie Brown"
Goofs / Nitpicks:
Lucy and Marcie is not seen in hell with the others at the end of the segment.
Holes are visible at the bottom of Charlie Brown and Lucy's feet during the police scene.

Ad blocker interference detected!
Wikia is a free-to-use site that makes money from advertising. We have a modified experience for viewers using ad blockers

Wikia is not accessible if you've made further modifications. Remove the custom ad blocker rule(s) and the page will load as expected.