Ad blocker interference detected!
Wikia is a free-to-use site that makes money from advertising. We have a modified experience for viewers using ad blockers

Wikia is not accessible if you've made further modifications. Remove the custom ad blocker rule(s) and the page will load as expected.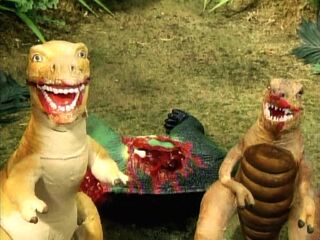 Episode Name: Yancy the Yo-Yo Boy
Season: 3
Episode: 47
Production Code: 08
Air Date: 09/23/2008
Written By: Mike Fasolo, Doug Goldstein, Seth Green, Harp Pekin, Tom Root, Ben Schwartz, Matthew Senreich, Kevin Shinick
Directed By: Matthew Senreich
Cast: Candace Bailey, Michael Benyaer, Dave Coulier, Robert Culp, Eden Espinosa, Seth Green, Breckin Meyer, Tom Root
Episode Summary: The dinosaurs face their armageddon. Barbie and a Brat go head to head on MTV's exposed. What happens on Tuesday when Wimpy has to pay for his burgers? Greatest American Hero or Greatest American Nerd? Find out how infinite wealth has affected Richie Rich's teenage years.
Trivia / Info:
Special Credits:
Segment List: